A beautiful resilience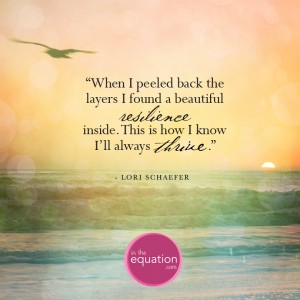 September 11th, 2015 9:21 am
My blogs on the topic of "resilience" are getting a lot of attention lately. I love that when I peeled back the layers of self-protection and self-doubt, I found a beautiful resilience inside of me that I know means I will always be okay. I will always thrive.
Resilience is one of the key qualities/skills that will propel you to your goals. I am so grateful that I uncovered mine and wanted to share this quote with those of you thinking about this today.
I believe we ALL have more resilience inside than we think. We just have to believe!
Happy Friday, peeps. Have a great weekend.
XXOOO
Lori
You can read more blogs about resilience here: