Drunk in the afternoon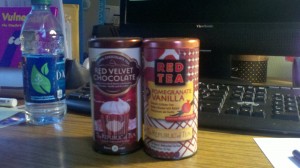 February 9th, 2013 3:14 pm
It's early afternoon on a Saturday and I am already drunk. Pomagranate Vanilla, Red Velvet Chocolate and Coconut Cocoa are my favorite drinks.
Ok, truth be told, I am getting drunk on tea!
The first time I heard the phrase, "Get drunk on water and tea," was from Abby Campbell, author of "One Size does NOT fit all Diet Plan." Abby found a catchy phrase for what we already know – water and tea are good for us. But what I have discovered of late, is that at night when I am craving something sweet or dessert like, there is a new decadent brand of tea that is both good for me, on plan, and that is warm and delicious.
The Republic of Tea has an array of awesome green and black teas. They have also come out with a new line of what I fondly call "dessert" teas – the thing is – they taste great and fill you up (even suppressing appetite or cravings) and they are good for you.
My cupboard is now filled with these teas. I even travel with them. My all time favorite flavors are the Peppermint Chocolate, Coconut Cocoa and Red Velvet Chocolate. I gave away my Banana Chocolate because I didn't love that one. But if you like sweeter tastes -they have those, too.
Tea often makes the list of "Top Skinny Foods" and in fact, my brand, The Republic of Tea, was featured this last week by Joy Bauer on NBC's Today Show on a segment called 10 Skinny Foods all dieters should try.