No more New Year's resolutions!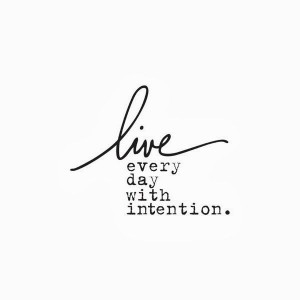 January 6th, 2014 10:05 am
It's true. I'm throwing in the towel and asserting that, for me, New Year's resolutions are officially a thing of the past. I don't believe they are the right approach to real, lasting, and transformative change. And this is coming from someone who for most of her adult life was a New Year's resolution gal.
Like so many, I used to look to the New Year with hope and inspiration and the idea of a fresh start (I still do) and then I would make my laundry list of yearly goals, habits I wanted to change or break, i.e. set my resolutions. It's probably no secret that losing weight and getting healthy made the list year, after year, after year.
After resolving to change and jumping in head first with lots of gusto, I would quit or fail — depending on how you look at it. Just like the stats show here. By mid to late February, I was throwing in the towel and feeling bad about myself wondering why I couldn't stick to it.  And then I would get over it and do it again…the next year!
Well, no more. There is a better way.
I believe that the path to real and transformative change is intentional living every day. That said, I still love the idea of a new year and a fresh start. So I take advantage of the New Year to evaluate, get clarity, and focus on selecting/renewing my intention. Sometimes, like last year, I focus on one clear intention embodied in a powerful word, and then I define what that means to me. Last year, I chose the word LOVE. Read more in my 2013 New Year's blog titled: My word is Love. LOVE in 2013!
As a person who enjoys personal development and spiritual growth, and who believes we are always learning, growing and getting better, I know that I don't need to wait for the new year to have hope, set goals or aspirations, or to live the way I want to live. I can do it now, today, on January 6, 2014. Or, on Nov. 28th (that was the date I started my Lori in the equation transformation in the year 2010). There is great benefit to doing it when I am focused and ready. That's when it really matters.
How many of us tell ourselves we'll start tomorrow, next week, on Monday, or at the beginning of something, like a New Year? Yep. I did it for years. And then one day I accepted that, for me, it was nothing more than a deflection, an excuse to continue to practicing old behaviors and patterns that felt comfortable. Usually there was some fear behind my excuses. I was NOT 100% all in.
Intentional living vs. resolution
The difference between intention and resolution is that an intention is a very specific goal with a plan — not just a goal. In other words, intention starts with a clear and specific goal, but includes the plan behind it. When I tackled my health for real, and embarked on my -200 lbs weight loss journey, I not only set a goal but I set myself up for success by thinking through WHAT it would look like when I got there, HOW I would get there and what I needed to be truly successful, and WHY I was doing it. In a very honest conversation with myself and others, I got very clear about the WHY and it included thinking about the alternative to doing nothing. That wasn't pretty. It was a real motivator for me.
Intentional living focused on changing a habit or achieving a big, hairy audacious goal includes all of those components. Not just the declaration of a resolution that often comes without a plan. My process of intentional living goes like this…
I ask and answer these questions (and then I write it down and tell others who have earned my trust so I have focus, accountability and support):
1) WHAT will it look like and feel like when I get there? How will I know when I'm successful? I like to paint a nice clear and descriptive picture, including how I think it will look, feel and be when I reach my goal. This is the fun part!
2) HOW will I get there? I think about what I will do every day in positive steps toward my intention. What I might have to give up to get there. How I might sabotage myself and how to circumvent this. What kind of support I'll need, from whom and how to get it. How I'll celebrate the mini-milestones along the way. How I'll continue to stay focused and motivated when the going gets tough. And, most importantly, what are the NON-NEGOTIABLES? Non-negotiables are key.
Non-negotiables vs. goals: A non-negotiable is something that I've decided cannot be excused away, explained away, blown off or dismissed when I don't "feel" like doing it. It is indeed a non-negotiable contract with myself. I made a short list of non-negotiables when I embarked on my physical transformation journey, and I made another one for my new healthy life in maintenance and I live it to this day.
I am not always 100% perfect, of course. Non-negotiables do sometimes get broken because I am human and, well, not perfect. But, changing my mindset and my language from goal to non-negotiable not only helps me focus like a laser beam, it also makes it easier to get right back on the horse and restart when I slip or fall. Somehow the non-negotiable is not as easy to dismiss or explain away because I know it is a contract and commitment I made to myself and to my success. It is my path to living my intention.
3) WHY am I doing this? Why am I thinking about this, wanting to change this, do this…? This is an absolute key to success, and I'll be honest, it can be tough. When you are really, really honest with yourself and the goal has eluded you for a long time, like my weight loss/health, it is hard to make a change. There are reasons/things holding you back. For me, fear was getting in my way and I had to be honest about that and push past it. But getting to the bottom of WHY and really embracing it allowed me to come back to it when the going got really tough. And it kept me moving forward always, especially when I had to restart.
Do what works for you. Go all in. And you will succeed
There as many different opinions and methodologies  to achieving transformative change or your big, hairy, audacious goals as I have underwear – okay way more. And believe me, I've read a lot of them this year already!
My advice when people ask me how I did it is simple. Know yourself, be honest with yourself and do what works for you.
Not what works for me, or your neighbor, or others via marketing on the internet. Although you can get inspiration and ideas from others, my view is that it is best to look deep inside yourself and know what seems right for you. Whether that is a gut check, an honest conversation out loud with your best, trusted friend, or just digging deep in your heart to see what feels right to you. Only you really know. Others can help and support you and guide you, but you know and you have to do the work. That's both the good and the bad news. I find it empowering.
I share my process and my story here because it worked so brilliantly for me after so many years of failed attempts. And, it has changed my life. I want that for everyone. I want everyone to unlock his or her unique  potential and be happy. I've talked with a lot of you over the last couple of years both online and in person and I am learning from you that you have many of the same challenges and obstacles I had. So I have great hope that sharing my story and my process will help remove some of those road blocks and provide a way. But only you know that for sure.
I want to inspire, to provide hope, to provide help, and to say – it is NEVER too late to honor yourself, be kind to yourself and be happy. And oh my God is it great when you love yourself, can be happy in your own skin and live from a place of intention and joy. We are all works in progress. I am still learning, moving, growing and evolving and I LOVE that! This is the hard part and the fun part.
Oh, and yes, I found LOVE in 2013. An even greater love of myself, my work, my passions, and others in 2013. It was a great year of intentional living. I am working now on my intention for 2014 and the plan. May share it later but its a work in progress. 🙂 And for now, I'm still doing it with LOVE and I am in my equation every single day.
Happy, Happy New Year peeps. Feel free to share your intentions or goals here. Would love to be your support, cheerleader and a place of accountability.
Hugs,
Lori
For fun, here are some of the blogs I have read and received inspiration from of late. Some other approaches – and check out the New Year's Resolution stats!
New Year's Resolution Statistics (Top resolutions in 2014: Losing weight #1, getting fit and healthy #5, quitting smoking #7 – can you guess the others?)
Starting a New Habit? Follow This Three-Step Plan (Dr. Jade Teta, Metabolic Effect for Huffington Post)
Stop imagining the future, start living it (Bold Academy on Positively Positive)
Some of my blogs relevant to this subject:
 My word is Love. LOVE in 2013!
We come together to celebrate the hope of a new year
Changing the equation, Duluth Superior Magazine – includes tips and my process