Spring has sprung! Take it outside.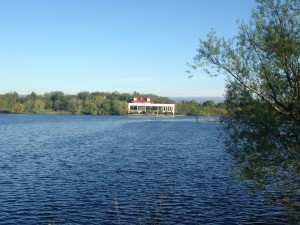 March 21st, 2016 7:22 am
The awesome benefits of outdoor exercise
Yesterday was the first official day of Spring 2016. It was a beautiful, sunny, low 40's day in Mpls-St. Paul, MN. A great day for a walk…or two! I celebrated one of my favorite seasons with two walks around my beloved neighborhood & Como Lake.
Spring is a time of rebirth and renewal, fresh starts all around. Spring is especially awesome for those of us who live in cold states where people tend to hibernate in the winter. Here are a few of my favs: Sweatshirt weather, sprouting tulips and bulbs, the greening grass, countless robin sightings, gushing waterfalls and streams, and the smell of spring in the air.
For me, early spring also represents getting back outside on a daily basis for my cardio workouts. As an avid walker and hiker, I love outdoor cardio. I feel different when I'm out in nature. It's feeds my body and soul.
Did you know that outdoor exercise has many health benefits? As the weather warms and our days get longer and brighter, here are some of the top reasons to take your workout outside.
1. It's good for mind and body! While most people work out for the physical benefits, I'm equally revitalized by the mental boost I get from my morning workout. On a good day, I start my day with my 2.5-3.5 mile walk ritual around my neighborhood lake and often repeat it in the afternoon with friends if I can work it in, just to clear the head.
Research has shown time and again that outdoor exercise is associated with increased energy, revitalization, attention and focus, as well as decreased depression, tension and anger. I don't need the research to prove it because I notice it every time I'm out, and I notice even more when I skip a workout. Outdoor exercise also helps me sleep better at night.
There is emerging research that says walking in nature causes changes in the brain that improve our mental health. Check out this blog I shared earlier this year by Gretchen Rubin, published in the New York Times, titled: How Walking in Nature Changes the Brain.
2. Outdoor exercise tends to be more strenuous (and stimulating)! According to the New York Times, studies comparing the exertion of running on a treadmill vs. outside, showed that inside treadmill runners expended less energy to cover the same distance as those outside. This was largely due to the fact that indoor exercisers faced no wind resistance or terrain changes. I've seen other research that says this is true for outdoor runners, walkers and cyclists. And in my own experience, I feel it — especially when I walk in the elements of colder temps, wind and rain. Or when I take my outdoor cardio to the woods and tackle hiking trails.
3. Soaking up the rays can make you happier. I was just talking with my walking partners the other day about how great it felt to get outside on a bright sunny day. We walked farther, longer, and felt better after soaking up the sun (especially after a stretch of gray and gloomy days.) When the sun hits our skin, it creates vitamin D which is important to bone health and metabolic function. It also increases endorphin production and that means it makes us feel better and happier. It's why when I walk on a sunny day, I often don't want to stop and go back to work. I just want to keep going…

4. Outdoor fitness can make it easier to develop a routine. It's not rocket science to suggest that the key to exercising regularly is to find something you enjoy. If you enjoy it, you're more likely do it and to stick with it, making it a habit. My go-to cardio is walking outside around the lakes. I also love to hike in the woods, mountain climb and challenge myself to take it up a notch — whether that's more steps, longer walks, or more challenging trails. The pleasure I get from being outside propels me into my day.
Recently, I read that Canadian researchers studied postmenopausal women and found they reaped more benefits from outdoor exercise and were more likely to stick with it than those who exercised indoors. I just know it works for me.
5. Outdoor exercise is FREE. I often hear from people that they can't exercise to lose weight or get fit because they afford gym memberships or personal trainers. I disregard that excuse. I used to use it.
Instead I encourage them to get outside and go for it. Just move. Find something you love — even if it's playing with the kids — and you'll see not only is it free, the benefits are many!
There was only about 10x in 1.5 months this winter where I had to bring my cardio inside to the gym or to my kitchen for my dancing workout due to bad weather. Almost every other day, you'll find me outside doing what I love.
Spring has sprung and it's a beautiful one. And, it's motivation Monday! So, peeps, get out there, find something you love to do, grab your favorite dog for a walk, hike a trail, invite a friend for a jog around the lake and reap the benefits of outdoor exercise. What's your favorite outdoor exercise? Tell me.
Cheers! XXXOOOO
Lori
Read more blogs on fitness from In the Equation: