Spring has sprung…time to renew you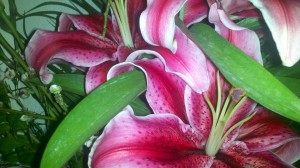 March 29th, 2013 9:38 am
I absolutely love spring! It's a time of renewal, freshness, opportunity and transition. A time of readying for what comes next (summer…). And a time where, if you pay close attention, you will see something new – blooming, budding, building, growing – around you at any given moment. Maybe even you! 😉
This week I returned from a business trip to melting snow and temperatures in the 40's and 50's. I immediately filled my house with my favorite fresh flowers and budding plants (blue hydrangeas and tiger lillies), got a cute and sassy color and haircut from my awesome stylist Justine, took time out of my crazy work schedule to spontaneously connect with friends, and made the "Lori spring projects" list – all projects that focus on me! Oh yes, and prepped for the tax appointment.
Spring is the perfect time to focus on you and renewing you (though now that I am in the equation I argue we should do that all of the time!). In spring we see that all things are possible and we want to do them all! I get spring fever in the craziest way when the weather starts to warm and the snow melts. I am in
one of my most spontaneous states in the spring, and having so much fun.
For me, these past few weeks have been filled with all of the things spring brings – hope, renewal, newness, freshness, opportunity and transition. I've enjoyed a host of "firsts" including: My first time on skis ever; my first few Cross Country skis out on the beautiful trails of Cook County, MN; my first Cross Country ski injury; the first time in nine months I have managed to sit at my lowest weight ever and maintain it with some ease; and dating and relationship firsts that have challenged my thinking, opened my mind and enriched my self awareness (I promise never to kiss and tell!). Oh, and there are some new business ideas and opportunities budding too.
Today, I want to take a moment to appreciate all I have been given and the joy of living in the moment this spring. I am grateful for each and every person and opportunity that presents itself during this season of renewal. I am aware of the budding life around me, and within me, and I can't wait to see what happens next.
So now I want to check in with you to see if you are seeing the signs of spring and feeling the same way. Do you see and feel the hope and opportunity and renewal around you as the seasons change? How is it manifesting itself within you and your life? What if anything is holding you back? And if you were to make a commitment today to renew you, what would that look like?
Anyone brave enough to share your answers here? Or, message me privately on the blog here. Or, post in our new "Put Yourself in the Equation" Facebook group here.
Read this blog today on the Power of Positivity website about spring cleaning of home, heart and mind. Thought it applicable to share here.
Next up – join us for a chance to get out and get moving this spring! On Saturday, April 20 we're walking and/or running a 5K at Como Lake in Saint Paul as an In the Equation team. For fun. And to jump start our spring cardio and get ready for summer. People will be participating at all levels, we're getting t-shirts and connecting after the race.  All are welcome. Details coming soon.