The 2.5 mile Blue Hill loop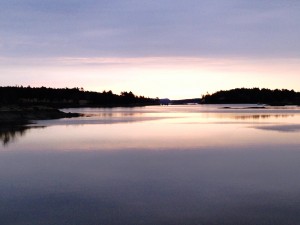 September 16th, 2014 9:04 am
Morning cardio that's good for the soul
My preferred time to work out is first thing in the morning. And my preferred method of cardiovascular exercise is fast/power walking — preferably somewhere scenic.
I've learned that fasted-state cardio — a cardio workout before I eat breakfast — serves me best throughout the day. The added benefit is that I'm burning stored fat, while at the same time waking up mind, body and soul, and ensuring that I start the day "in my equation."
These past three weeks, I've been blessed with the very best walking partner one could ask for — my Bud. And, the most scenic, soul- energizing route I could imagine in beautiful Blue Hill, Maine.
For those who know the area, our 2.5 mile loop includes fast walking from the house down steep Tenney Hill to downtown Blue Hill and Blue Hill Bay. We take a 5 min break to visit the ocean and often get to watch the sunrise over the Bay. Some days we add the extra short stint to the park for a different view overlooking Blue Hill Bay where the early morning light is gorgeous as it illuminates the old buildings. Then, we loop up a big gradual slope hill (good for the legs and glutes) past town hall, the Blue Hill Inn, and the approx. 1.2 miles back home. This has become by far my favorite route and my favorite morning routine. Bud's too!
When exercise is this easy and beautiful — it feeds the soul and helps you stay active and fit at the same time. People often ask me how I managed to adjust my life from working 12-18 hours per day in an office chair where I took no time for myself, to a new life that prioritizes me and starts every day with "me" time. In particular, early morning cardio.
My answer is simple. I just did it/and continue to do it! It's easier when you choose something that you really enjoy doing (or could learn to love) and when it feeds your body, mind and spirit. It then becomes something that I need and look forward to vs. something I have to do.
The truth is, if I get no other work out in on a particular day I feel great having started the day with this "me" time including a brisk walk and views that feed the soul. Not to mention the most precious dog ever who is ever so excited to walk every time we get up that I can't possibly say no. How could you say no to this face?!
So my best advice to those who ask is — find something you love to do that keeps you active and you'll find it doesn't feel like exercise most days.