What a privilege to help my mentor O'Neal Hampton launch his foundation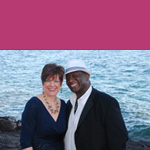 May 9th, 2013 9:40 am
This coming Saturday, May 11, my friend, inspiration and mentor – O'Neal Hampton Jr. of Season 9 Biggest Loser – is officially launching the O'Neal Hampton Health & Wellness Foundation at a wellness fair at the Ramada in Bloomington, MN, from 10 a.m. to 6 p.m. Click here for event details.
It will be my privilege to spend the one year anniversary of reaching my goal weight by assisting one of the most important people in my transformation journey and now in my life. So many of us that O'Neal inspired and supported will be there May 11 to volunteer with enthusiasm, appreciation and support for this incredible human being who gives so much to so many. Though, I venture to say, I am at the top of the list of cheerleaders! 🙂
If you are struggling with health or weight related issues yourself; challenged to put yourself in the equation of your own life; and/or if you have someone in your life struggling with those issues and you want to help others tackle obesity, please join us this Saturday!
The mission of the O'Neal Hampton Wellness Foundation is to promote, engage and sustain community health and wellness, educate and empower individuals and families on better life styles choices to prevent childhood and adult obesity, and transform poor health and nutrition behaviors. Come get inspired and support this incredible work. Or, if you can't attend, please visit the website and consider donating to the foundation.
As you know, this mission/cause is extremely near and dear to my heart for good reason. Not to mention it is being inspired and led by a man who will always hold a special place in my heart. Now, it has become my personal mission to pay it forward and inspire, give hope and encourage others as O'Neal Hampton did for me. To all of you on this journey and to those you love who struggle. WE CAN DO THIS! We've totally, totally got this!
I was honored to learn that O'Neal mentioned me as a success story on a radio appearance on KTIS 98.5. Take a listen here.
Read my transformation story of how O'Neal Hampton took the time to connect with me, inspire me and give me hope.