Good, healthy eats for Fall. Yum!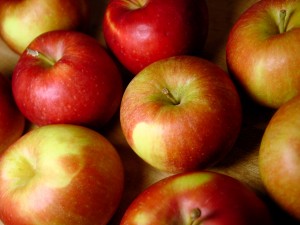 September 28th, 2014 9:27 am
I absolutely LOVE Fall! Love it. It's my all-time favorite season because it not only yields gorgeous leaves and great hiking and play- outside weather, but some fantastic locally grown food.
In fact, one of my favorite things about Fall is the fresh, healthy food — apples, squash, sweet potatoes, pumpkin, pears, cauliflower, brussels sprouts and more! Not to mention all of the fun and "healthy" recipe blogs making their way into cyberspace. Yum!
I try to eat seasonal, fresh and local when I can. And since I spend my time in both Minnesota and Maine, I get lots of amazing seafood and produce this time of year. This Fall, I've vowed to tackle some new healthy recipes.
So, today, in celebration of Fall, I'm sharing some of the new healthy and seasonal recipes that are on my go-to list. I invite you to share your favorite fall food recipes, here, too. The more the merrier!
Enjoy these recipe links and please share your favorite fall recipes. Also, let us know if you have tried and tested them. All of the recipes I'm sharing have nutritional information provided, and some I will be modifying for a more "clean" version. (P.S. A blog on "clean" eating coming soon.)
I hope my sweetie is up for a little fall cooking together these next weeks. Now, what are your favorite fall go to recipes?!
P.S. Check out this link to Health Magazines 15 Superfoods for Fall!
Happy cooking!