Success = warrior. Not quitting, no matter what!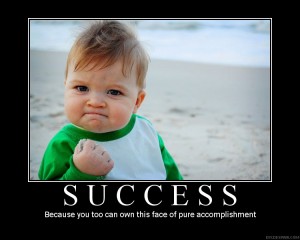 June 26th, 2014 8:40 am
Meet Kendra the warrior. Success story #2 in my blog series titled, "Success. It's personal. And that's a good thing."
When I was first asked at weight-loss boot camp to set a goal for the two-week live-in camp, I said without hesitation, "I will not quit. No matter what!" I didn't know it at the time, but it was one of the most important things I would do to achieve success. I still have that goal today, and it serves me well…over and over.
Most people focus on weight loss as the goal. And in our boot camp nearly everyone, but me, focused on how much weight they wanted to lose in the grueling two-weeks. I get it. But, I'm glad I had the foresight to focus on the bigger picture. Because for me, that was key.
I knew myself and knew that staying in the game when the going got really tough, when my emotions got the better of me and I all I wanted to do was eat myself deeper into the black hole, that was key.
Just over a year ago, I had the pleasure of meeting someone who exhibits that same tenacity and determination. The minute I was introduced to her (virtually), I knew she would be a success and her transformation would be both internal and external, inside and out. I offered to support her transformation journey for those reasons.
Meet the lovely Kendra Malloy from Berkley, Michigan. Kendra calls herself a warrior. And she is! Kendra's transformation success story — while still in progress — will inspire anyone who can relate to starting out with focus and determination and throwing in the towel when it gets really emotionally tough. Like me, that became part of Kendra's story. Like me, she struggled with body image and self worth. But this time, like me, Kendra has gone all in! She has NOT thrown in the towel or let herself quit. And to date Kendra has lost 150 pounds, gotten stronger inside and out, and is able to show herself compassion and love! That's real success and it deserves to be celebrated. Kendra, so do you!
What I also love about Kendra is that she's a communicator, a writer. She has a beautiful way of writing through the pain and struggle and in the process helping herself and so many others.
Kendra's story — like so many who find themselves out of their equation and obese, unsure where to turn for help and feeling hopeless — starts with loss and pain at a young age. For Kendra that included the violent death of a close friend, rejection by people she trusted, and emotional abuse.
Kendra writes in her blog, "I used to get embarrassed that I gained weight. The fact that I gained weight seemed weak, unappealing and, somehow, gross. The truth is, though, that my weight gain did not (and still does not) represent weakness. The truth is that I've gone through some really awful things in my life. …
…Inwardly I was dying. I was fighting to breathe. I couldn't find me. And, so I soothed my inner self with cakes and cookies and pizza. Not all of the time and not even every day. Other days, I would heap shame and self-loathing upon myself and go days without eating more than one meal (or even anything at all) to pay for what I had done…
…the weight became a suit of armor. I didn't know how else to deal."
How many of us have been in this place and can relate to Kendra's story? I can see the hands go up in my mind. So here is the amazing and inspirational story of Kendra the warrior (the second personal story of transformation success in my blog series).
 Q. (Lori) How do you define your goal, today?
 A. (Kendra) My tangible goal today is to continue to get healthy; to maintain my fitness level and to drop more weight. My intangible goals include continuing to grow in self-care practices, changing my thought patterns, showing myself grace and practicing radical self-acceptance of ME at any size, at any weight, at any fitness level.
Q. (Lori) What does success look like to you?
A. (Kendra)  The weight loss goals are simple – I want to lose weight and gain muscle. I want to fit into cuter and more readily available clothing. The intangible goals, well, success in those is different, for those changes are not easily seen in pictures, the mirror or the scale. Success towards radical self-acceptance means not picking apart every picture I see of myself, looking at myself in the mirror at the gym, not falling down a rabbit hole when the scale doesn't move as far as I want it to, loving myself even when I mess up, letting myself fail, letting myself succeed and surrounding myself with people who will lovingly hold me accountable.
 Q. (Lori) What are some of the ways of the ways you've been successful?
A. (Kendra) I've lost 150 pounds so far. I eat more meals in the home than out of it. I've never missed a workout unless I was sick in more than a year and I am happier and more fulfilled these days than I was before (which, honestly, has less to do with the weight and more just a determination to love ME, accept ME and adore ME).
LORI NOTE: As I am reading Kendra's answers for the first time, I am smiling and tears of joy welling up for her and this answer at the same time! Wow.
Q. (Lori) Do you consider yourself successful?
A. (Kendra) I do and I don't. I am still far bigger than I would like. I have more than 100 pounds more to go. I look at that and it's easy to lose sight of the success I've had. It's also not easy for the average person on the street to understand the kind of success I've had. I constantly remind myself, not only of the weight I've lost, but of the radical lifestyle makeover I've adopted: I go the extra mile to be prepared; I've made fitness a top priority; I only eat cake once a week (instead of 3-5x a week, haha); I say no to events wherein I think I can't make good decisions and I choose "clean" foods over processed foods. That kind of success might not be obvious at first glance, but it's the kind of success that is going to keep fueling the journey for the rest of my life.
Q. (Lori) Are you able to recognize and celebrate your own success?
A. (Kendra) At times I am able to recognize my own success, especially when it comes to the intangibles. Recognizing my weight loss, however, has been a very different story. I still feel like my "before" picture and I hate that, a year and a half later, I'm still at a "during" phase instead of my "after" phase. People around me can see changes in my body, my face and the way I move, but I don't always see that. And when I don't, it's easy to get lost in a sea of shame, shaming myself for ever gaining weight in the first place. And, that's when I have to practice that self-compassion I keep going on and on about.
Q. (Lori) What are you most proud of?
A. (Kendra) I am most proud of the fact that I am still going, even though I'm not as thin as I would like, even though I haven't achieved the weigh tloss as quickly as everyone else around me, and even though it feels like an endless road: I still keep going. I am proud of the fact that I haven't chosen my old way of life over my new one, just because change isn't happening as effortlessly or as quickly as I wish it would.
Q. If you could share one tip with others on this journey, what would it be?
A. (Kendra) To be gracious with oneself. We have to tell ourselves it's ok if we fail, because once it's safe to fail, it's safe to try. Every time we try and succeed or try and fail… we are writing our story. Every step we take is part of that journey. So, tell yourself it's OK if you fail — that means you have grace for yourself — and then try your hardest every day to have a better day than the day before.
If you can read the success story of Kendra Malloy — the beautiful, articulate, courageous, strong, sexy and determined warrior — and not shed a tear, smile for her, and be motivated to become a warrior yourself, I'd be surprised. She is amazing. Please join me in congratulating her, celebrating her, and supporting her. She is a beacon of hope that shines all the way from Michigan to Minnesota, and across the country. I have never met this beautiful young lady in person but we have spoken many times and I am so struck by her presence. It is my pleasure to share with you the success story of Kendra the warrior!
P.S. Check out Kendra's blog, Rather be Swimming here.
Read my original blog kicking off the success series: Success. It's personal. And that's a good thing.
Other related blogs:
Two years fit and healthy. New life…new lessons
Three years, another cool milestone
How I got this body. Climbing high and losing weight (Star Tribune)