What is success? How about being good to yourself?!
by Lori Schaefer on June 18, 2014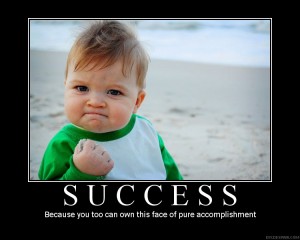 June 18th, 2014 8:15 am
Meet Kathy. Transformation success story #1 in my blog serious titled:
"Success. It's personal. And that's a good thing"
About a year ago, I met a remarkable woman named Kathy Moriarty. Kathy reached out to me for help, asserting that she was ready to put herself first and aggressively pursue her health and wellness goals. We got together to talk and walk my beloved Como Lake.
When I first met Kathy, she shared her story of abuse, addiction, and survival. Like me, she had put herself on the back burner of life largely because she didn't believe she deserved better. Like me, she thought if she gave everything she had to others, she would be loved.
What I saw when I met Kathy and listened to her story, was a strong and courageous woman with an internal spark. I saw someone who has exactly what it takes to better her life, achieve her wildest dreams, and to do so with a laser beam focus. This looked and sounded kinda familiar to me (grin). So I was privileged to get to know Kathy and support her journey.
It is with great delight that I share Kathy's success story with you on her one year anniversary. As I said when I kicked off this series, the journey of transformation is personal. Everyone has a story and it's never too late to change the direction or next chapter of that story. Kathy, to me, is the epitome of determination, courage and success. I hope you enjoy her story. (And Jody, my dear, the timing of this one is for you! 😉 )
Q. (Lori) How do you define your goal in this journey?
A. (Kathy) My goal is to be good to myself. This might sound simple, but it's a challenge every single day and something that I have to consciously think about. Until last summer this was a foreign concept. My life revolved around my family, my job, but never me as a human being. I was last in line for everything. In fact, most of the time I wasn't even in line. I didn't take care of my health, my heart, or my soul. I was basically empty and trying to fill myself by focusing on others and ignoring my basic human needs. I truly believed that to focus on myself would be greedy, selfish and narcissistic.
My entire adult life was spent trying to make others feel good about their life. I was pretty good at it. The more I focused outside of myself, the more I could ignore the anger, the sadness, the loneliness, the disappointment, the failures, the abuse, and the realities of what my life had become.
My weight problem started when my family life fell apart. From drug abuse, emotional, physical and mental abuse my self worth and value plummeted. I spent years depressed and self medicating with food and other unhealthy lifestyle choices. I didn't feel like I was worth much and the only thing that mattered was that I solved problems for people around me. It made me feel good to be needed and able to help others.
Q. (Lori) What does success toward your goal look like, to you?
A. (Kathy)
It is getting easier and easier to achieve my goal
Success is when I have a good eating day. I eat healthy foods and appropriate portions
Success is working out to the best of my abilities
Success is pushing myself past my comfort zone
Success is looking in the mirror and liking myself
Success is keeping my focus on what is best for me
Success is seeing myself wearing some hot new clothes
Success is seeing people around me get inspired by my journey
 Q. (Lori) What are some of the ways in which you've been successful?
A. (Kathy)
I've lost 60 pounds
I no longer have to use asthma inhalers every day
I stopped snoring and using the CPAP machine
I have found an inner strength and self awareness
I feel like I deserve a good life and to be happy
I have become a role model for others in my life that are struggling with weight and health issues
I started dating, and it's been fun and empowering
Q. Do you consider yourself successful? Are you able to let that in?
A. (Kathy) Last year I wouldn't have said that I was ever successful. But, I can honestly say that I have succeeded in turning around my whole outlook on life. I have lost a good amount of weight. I have improved my overall health. I am kicking butt, and I do consider myself a success and I'm not ashamed to say it!!!
Q. (Lori) Are you able to recognize and celebrate your own success(es)? How?
A. (Kathy)
I try to celebrate all my successes. I buy new clothes. I share my journey with someone looking to change. I have so much more confidence, and I smile a lot more.
Q. (Lori) What are you most proud of?
A. (Kathy) I am proud that I stepped up and starting taking care of myself. I am proud of the way I look, the way I feel and the way others have been inspired by my success. I am so proud that I did my first ever obstacle race and completed all of the challenges!
Q. (Lori) What tips would you like to share with others thinking about or just starting their own journey?
A. (Kathy)
Know and believe that you are worth it. For me, I'd had enough and decided one day that I didn't want to be sick and unhealthy and overweight and depressed and sad anymore. I describe it as turning a switch in my brain that allowed me to be committed to my health and well being. I have not looked back. I know everyone has their own journey and point in time where they say enough is enough so when it happens, grab on and give it everything you got.  You will soon find out that you are so worth every single good thing that life has to offer. Never take no for an answer.
Stay out of fast food places. Not a good alternative for a meal.
Educate yourself on what you're eating. I use MyFitnessPal and it really helps me manage my calorie intake and understand the need to incorporate exercise into my plan.
Q. What is the one thing you would like to leave people with when sharing your story?
A. (Kathy) I am a survivor, period.
I told Kathy when we walked around the lake that day that she had what it takes to ROCK this journey. She is, indeed, a ROCKSTAR! Please join me here in recognizing Kathy Moriarty for the epitome of being in her equation, caring for her health and well being, and for being an inspiration to others. If you have comments or questions for Kathy, please post them here.
Read my original blog kicking off the success series: Success. It's personal. And that's a good thing.
Other related blogs:
Two years fit and healthy. New life…new lessons
Three years, another cool milestone
How I got this body. Climbing high and losing weight (Star Tribune)

Tags:
believing in yourself
,
celebrating success
,
courage
,
determination
,
fat loss
,
focus
,
health and wellness
,
In the equation
,
Kathy Moriarty
,
loving yourself
,
self-acceptance
,
self-love
,
success story
,
weight-loss